Team Colvita/Sutter Home
rider and 4 time US National Criterium Champion
Tina Pic
was kind enough to entrust something so important as her bike set up to
55nine Performance
. She visited me at the
55nine Performance
headquarters equipped with her
Blue Competition Cycles
Rc7 road bike, T-14 time trail machine and enough spare parts to make any cycling connoisseur jealous. While I try to treat every client with equal importance, I could not help but be overly attentive in all I said and did with her. Tina is one of the most accomplished cyclists in the US and when it comes to sprinting, she is one of the best in the world. So why come to
55nine Performance
at this point in her career? That's easy. The best never stop trying to be better. Tina is the best in the business when is comes to standing up and sprinting, but when pedaling while seated
55nine
was able to help her produce more power at a lower metabolic cost and improve her comfort. That means she'll be able to arrive to the sprint fresher and position herself better prior to the actual sprints.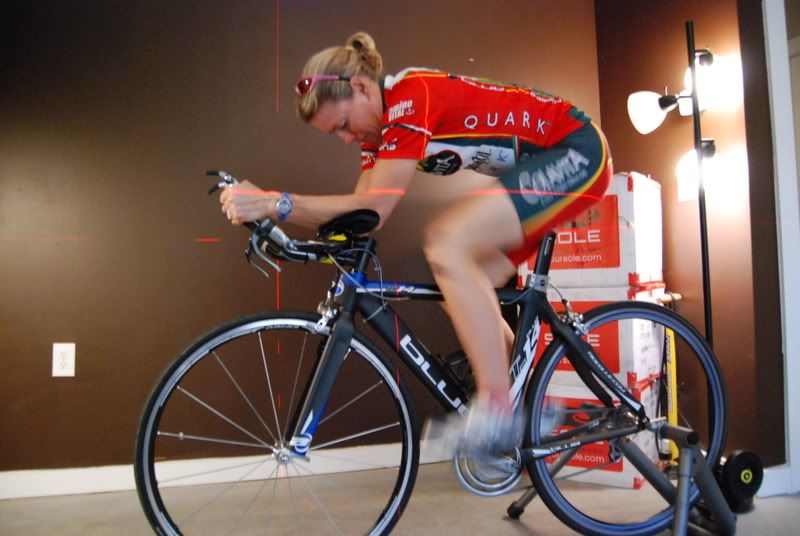 Tina may not be as well known for her time trialling, but that doesn't mean they are unimportant to her. Sometimes she goes all out to take a leaders jersey, sometimes she is out there to lose time, so she will be allowed a bit more freedom at the front end of a stage race. It all depends on the tactics of the day. Either way, by fine tuning her position in a balance of power output, aerodynamics, comfort, & UCI rules we can help her arrive to the finish line faster &/or fresher.
Since Tom Coleman is in town to help Eddie with the
A&F Team Camp
, he stopped by the Pic residence to get Tina on the sEMG/Dartfish before she left for Australia.
Read more about that
!